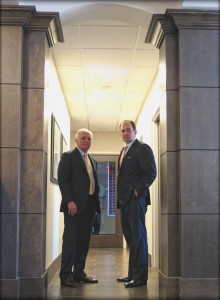 Attorney Eric A. Lanigan and attorney Roddy B. Lanigan are partners in the Winter Park, Florida, lawfirm Lanigan and Lanigan, P.L. Lanigan and Lanigan provide legal services including:
Eric Lanigan has practiced Florida law since 1976 and Roddy Lanigan has practiced since 2007. The Lanigans are Florida natives who have extensive experience working with business and civil litigation, white collar appeals, bankruptcy, real estate, securities and investment losses and white collar crime.  The Lanigans offer clients the skills and resources of a large law firm, while maintaining the close knit and personal attention offered by a family law firm.
Meet with Eric or Roddy in the Winter Park, Florida, office of Lanigan and Lanigan, P.L.  for a legal consultation. You'll learn what your legal options are and be able to make an informed choice about your situation with the specifics in front of you.
Lanigan and Lanigan, P.L. Experienced attorneys for clients seeking aggressive representation with a personal touch.