Lanigan & Lanigan, P.L.
Experienced Fla. Attorneys, 
Aggressive Representation With a Personal Touch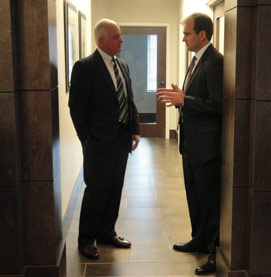 Winter Park Florida real estate attorneys Eric Lanigan and Roddy Lanigan are partners at Lanigan and Lanigan, P.L., law firm. Since 1976, the Lanigans have provided business and civil, real estate and financial legal services to clients in Florida. The Lanigans have provided real estate guidance to clients in Florida, the U.S., Asia and Europe. Key Lanigan and Lanigan practice areas include:
Eric Lanigan has practiced Florida law since 1976; Roddy Lanigan since 2007. Together, the Lanigans are experienced attorneys who provide clients aggressive representation with a personal touch.
Winter Park Florida Law Firm Lanigan and Lanigan
Lanigan and Lanigan attorneys Eric Lanigan and Roddy Lanigan are passionate about the practice of law. Whether you're an individual, a family, a new business, or a corporation, the Lanigans handle your case personally from the first meeting through the resolution of the legal issue.
If you're facing a legal problem and have to fight for yourself, your family or for your business, you should learn as soon as possible what all of your legal options are by speaking with an experienced attorney. A key aspect of any case is timing but your opportunities shrink as time goes by. It's good to research and read and think about what to do with all the legal options in front of you. But don't wait wait too long or you'll lose those choices.
Ultimately, the lawyer you choose to represent you will know how many ways that a case or legal issue can be approached; choose wisely and you'll be well represented. 
When to Litigate, When to Negotiate
Clients need aggressive attorneys with the experience and the knowledge to discern whether a battle has to be waged in court or whether another solution can be reached between disputing parties through mediation or negotiation. The Lanigans are experienced attorneys who don't back down from a fight. Everyone says they want to sue the other side but litigation is a time consuming and expensive pursuit.
The Lanigans will battle in court for you, but more importantly the Lanigans know when and how to litigate on behalf of clients. They know how to present cases to juries because they're superior litigation lawyers who spend up to 80% of their time in court. The Lanigans know when to litigate and when to negotiate and will only provide you with the very best legal advice.
Attorney Legal Fees
Eric A. Lanigan and Roddy B. Lanigan aren't afraid of juries, but they know what juries can do. They're not afraid of litigation, but they know how much a lawsuit can cost and how quickly it can spin out of control for clients. The Lanigans are aware of the financial strain that clients can face when addressing legal situations. Eric and Roddy Lanigan pursue clients' rights regardless of the forum but with respect for time and for client financial commitment and investment.
In some cases it may seem that a lawsuit is inevitable, but it's not always going to result in a lawsuit. There is often a negotiation posture to resolve and to mediate issues without having to pursue litigation. The key to success in any legal scenario is to know the law, but to have the experience to interpret the law and craft a defense or an offense using the law credibly and correctly. Some of the best victories are won before ever having to enter a courtroom.
Every case and every client is different. Before you make a decision on any legal issue, consult with Lanigan and Lanigan. You'll work with experienced attorneys who provide aggressive representation with a personal touch.