Business and Civil Litigation Attorneys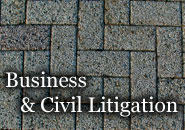 Florida attorneys Eric Lanigan and Roddy Lanigan represent individuals and businesses who need to solve their differences in a courtroom. Eric and Roddy represent plaintiffs and defendants in a wide range of lawsuits and legal disputes.
The Lanigans handle Florida lawsuits of all types that result from arguments, disagreements over contract, ownership, partnerships, and financial differences. The Lanigans also handle class-action lawsuits that can involve hundreds of litigants across the country.
Skilled Litigators
The Lanigans are skilled litigators who spend more than 80% of their time in courtrooms. A business and civil litigation lawyer is needed for representation to resolve a range of matters that result in lawsuits.
Having an experienced attorney on the side of a small business or a corporation or a person who has been wronged can sometimes resolve an issue before it has to get to court. Hiring a lawyer is a strong investment in the proper management of the legal situation that arises. Eric Lanigan and Roddy Lanigan have gone to court for clients over a wide range of issues continuously preventing and resolving legal issues in court for clients.
Lanigan and Lanigan resolve disputes between individuals or issues involving negligence or libel, or challenges faced by business owners over broken contracts or defective products. Many times the dispute can be solved outside of court through negotiation or mediation.
When lawsuits arise, however, companies and individuals shouldn't fear being sued or having to sue another party. Situations that arise in the business world or in private matters can't always be resolved when parties see things from opposite or different perspectives.
Lanigan and Lanigan, P.L., is dedicated to providing quality civil and business mediation, negotiation and litigation representation to meet objectives of companies and individuals in the State of Florida.
Eric and Roddy Lanigan possess an aggressive litigation style, are well-prepared and ready to fight for their clients' rights in court or outside through negotiation. The firm has done work in class-action law suits in Florida with clients stretching from Hawaii to Maine handling business and civil litigation issues. Business & Civil Litigation matters include:
There are a wide range of legal agreement disputes that occur when one party fails to perform, provide payment, execute services or deliver goods. When contract violations occur, businesses and individuals may be able to avoid litigation with proper negotiation.
Determining whether or not to litigate will depend upon the contract details. The disputing parties may agree to a negotiation to resolve differences, payment plans, or decide to repair or replace faulty products or return valuable goods. No matter the contract, it cannot be assumed that everyone will follow the rules and adhere to the original contract.
Contrary to common understanding, two or more parties can enter into a binding contract without any complex legal language or anything in writing.
Arbitration may be included as a mandate within the contract. In this case having an attorney with insight through experience will determine the most positive client outcome.
When contracts are broken, it's in the best interest of all parties to consult with an attorney to quickly resolve the dispute.
More Business and Civil Litigation Areas
Business dissolution and formation:
Businesses cannot simply shut the doors and post a closed sign when a business is dissolved. Complex legal matters including taxes, creditors, assets and liabilities keep an owner on the hook with responsibilities that must be handled with the same care and detail that went into starting the company.
Clients have to be notified, debts paid, forms filed with the state and articles for dissolution completed.
There are as many procedures in business dissolution as there are responsibilities in formation. IRS laws, state and county actions govern businesses for the clear management and adherence to these rules. How you file depends upon your company's structure.
In these circumstances, it's important to include restrictive covenants such as non-competition agreements and nondisclosure of trade secrets to protect the interests of the partner who will be continuing the business going forward.
There is more to starting a company than just filling out a form with the state and opening a checking account. When you open a business with multiple assets, employees, services the upkeep can be overwhelming. There are many potential pitfalls and dangers you may face. Rather than going it alone, let an experienced attorney help guide your incorporation or dissolution to protect your legal rights and interests.
More Business and Civil Litigation Areas
Corporate reorganizations involve reducing or changing company operation, determining which portions of the company to sell to investors, how to finance debt and how financial gains are shared. The complexities involve current and forecasted financial strategy and all changes to a company whether big or small involve many choices, risks and outcomes.
When a business is in financial trouble, the alternative to filing Chapter 11 bankruptcy is an out-of-court process known as a business workout. The owner of the business firm must put together a reorganization plan showing how it will sustain itself on a cash flow basis going into the future in order to prove to creditors that the business is viable.
This involves preparing forecasted financial statements for from three through five years into the future. The financial statements should show how the firm can sustain itself and generate enough cash flow to also pay off its creditors.
A business workout is complex and usually involves many creditors. This is why it's usually handled by a lawyer and a financial planner.
Business workouts can include any provisions that are agreed to by the business and the creditors that are involved.
The legal professional that you hire is generally responsible for preparing the forecasted financial statements and negotiating with the bank and creditors.
More Business and Civil Litigation Areas
An employment agreement is an agreement between an employer and an employee that specifies the rights and obligations of each party to the agreement. Issues often include the following information:

Specified probationary period
Starting date
General statement of eligibility for benefits plan
Statement indicating that there are no agreements between the parties other than those explicitly stated within the agreement
Rate of pay
Severability clause
Statement of at-will nature of employment
Title of position being offered
Any other state, industry-specific, or company required information
More Business and Civil Litigation Areas
Non-Competes and Confidentiality Agreements:
Whether you're an employer or an employee, non-compete contracts between employee and employers in many states are seen as "restraints of trade," and therefore are reluctant to enforce them. Some states have significant restrictions on the enforceability of non-compete provisions. Therefore, it is advisable to consult a lawyer to determine what rights and elements are enforceable.
When employees sign confidentiality agreements and employers mandate the signing of these agreements there is generally proprietary information that companies want to remain confidential.
Using an agreement of this kind allows you to protect privileged information and to ensure that the signer cannot legally expose it. If you are sharing confidential information with an employee on a client, it's intrinsic in the document what can and can't be said, shared, repeated with other parties and within set lengths of time.
More Business and Civil Litigation Areas
Investors and Stockbroker Responsibility and Liability Issues:
A stockbroker's main duty when working for an investor to providing, introspective and suitable investment recommendations. A financial expert should put the interest of the client before their own.
A stockbroker should always discuss projected investments presenting important factual information regarding those investments and only making business transactions when and how a client has allowed authorization for them.
If these outlined conditions have not been met, a case of stockbroker negligence may have occurred. Determining how to recoup and whether losses can be recovered is an answer to be supplied by an attorney.
More Business and Civil Litigation Areas
Business relationships build and dissolve over an array of issues from financial to control to debt management. Regardless of the type of business your company is, it's important to begin with the right legal direction to prevent challenges and disorganization down the line.
Partnership disputes often occur when there are a small number of partners, maybe only two or three, and one or more of the partners believe that they are being wronged. When there's a feeling that one is somehow mistreated, regarding either their status as partners or their roles within the partnership, major issues arise.
These problems can occur whether or not there is a written partnership or operating agreement involved. Starting a business in the right method will instill trust and clarity between those starting a business together.
More Business and Civil Litigation Areas
Real estate issues usually arise when there's a financial loss caused by a mistake or a misunderstanding. Time and money are Real estate litigation in Florida may often result after buying land that is deemed unbuildable. There are construction faults that cause problems in home structures, cheap products used or swapped by contractors or vendors and then an attorney has to be involved.
The Lanigans represent clients in real estate litigation to protect their interests and investments. In addition, we assist clients in avoiding potential future litigation by carefully drafting complex real estate documents including:

Residential transactions
Liens
Commercial sales and purchases
Surveys
Easements
Construction
Commercial loan transactions
Joint ventures
Land trusts
Boundary disputes
Mortgages
More Business and Civil Litigation Areas
Splitting up is hard to do whether dissolving a business partnership or dividing profits and revenue. Disputes between partners are often resolved with an agreement where one partner buys out the other. The problems grow with the amount of financial windfall or shortfall involved.
We litigate shareholder, partner, and LLC disputes including ownership issues, squeeze-out issues, freeze-out issues, valuation issues, minority oppression issues, and breach of fiduciary duty issues as they relate to Corporations, Shareholders, Partners, Partnerships, LLCs, LLC Members and LLC Managers.
Plan for the challenges that are ahead by working with Lanigan and Lanigan when any of the following arise:

How to divide profits from a company
Division of business debts
Allegations of fraud
Claims of breach of fiduciary duty claims
Division of assets among partners
Partnership or business dissolution
Disputes between majority and minority shareholders
More Business and Civil Litigation Areas
Business Contracts, Drafts and Reviews:
Eric and Roddy Lanigan provide advice and counsel to clients in the drafting and review of business contracts in order to avoid future litigation. When drafting a business contract, it is advisable to work with an attorney who is an experienced litigator and fully understands the kinds of problems likely to arise from a poorly written contract or agreement.
The firm will help to determine whether litigation, arbitration or negotiation is in your best interests and shape language to protect your interests. They will discuss your options, listen to your opinions and help you decide how to move forward to meet your objectives.
More Business and Civil Litigation Areas
What are some of the high profile cases you have represented?
One of the most interesting recent cases was one representing over 200 plaintiffs in breaking up a major Ponzi scheme where it was alleged that the defendants had defrauded clients out of millions of dollars and then secreted the money out of the United States. The plaintiffs were located throughout the Southeastern United States and all over the Caribbean.
What was interesting about the case is that it was that it was the first time that we've come upon criminals in a civil context in a civil case. It was amazing to see the extreme lengths that the opposition was willing to go to hide their crimes.
We were dealing with criminals who weren't playing ball or dealing in a manner in which most defendants behave or respond.
In the end, as a result of representation by Lanigan and Lanigan, P.L., they peeled away the layers and uncovered the crimes to get to the heart of the matter: where's the money?