Winter Par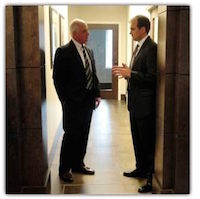 k attorneys Eric Lanigan and Roddy Lanigan handle all legal cases personally and work with each client who comes into their office. They manage every aspect of your case. Eric Lanigan and Roddy Lanigan work for you from the first meeting to the final decision to the follow-up.
Why the Lanigans Handle All Legal Cases
Quality control is why the Lanigans handle all legal cases personally. Winter Park attorneys Eric Lanigan and Roddy Lanigan work for all clients and keep business in the Lanigan family. When business owners meet with an attorney it's a private matter. You want to be heard and understood clearly in a one-on-one discussion to clarify all the issues you're dealing with. It's not easy to tell someone who you've just met about your business problems. But the Lanigans will put you at ease. They're experienced and they know that when businesses come to an attorney it's often because they need help or an answer quickly.
You're Paying for Their Services
The Lanigans assure you that you will be taken care of and receive the legal guidance and support from them: Eric A. Lanigan or Roddy B. Lanigan. You can ask anything you want and only they will work with you. There are no surprises where someone else will show up in court or in the office to handle your case.
Realize that every e-mail, phone call, meeting may be billed. You should organize your questions carefully and stick to the facts and the more important information to maximize your time with the attorneys. You'll work only withEric Lanigan or Roddy Lanigan, not a paralegal, not an associate. You'll work with one or both of the Lanigans from start to finish.
Questions Answered Personally
Florida attorneys Eric Lanigan and Roddy Lanigan know that you want answers to your questions addressed personally to clarify what your issues are and to determine tactics and strategy. You speak with them after the very first phone call to the office to the day you step in the door and meet them face-to-face for your consultation.
If you're a business owner or individual, you're working and have to maximize contact with us, your attorneys, to get the information shared properly and with attention to all the details that matter to you. Please be patient. The Lanigans are practicing law and are in and out of courtrooms.
Your Appointment Time is Valuable
Jean has been the Lanigan's legal assistant for many years, and answers the phone. If it's extremely urgent, she turns calls over to Eric or Roddy, or she'll set an appointment. It's better to have all the information in one place. Understand that time with an attorney can be expensive. You want to be very focused on what you will discuss and write down your issues and questions to maximize time with an attorney.
They personally take your information, file papers on your behalf, go to court and do all the research. They appear on your behalf, fight for you and then, discuss every outcome to your satisfaction. They handle every case personally and are respectful of your time and circumstances. They will passionately work for every case and are with you all the way to the end.
Working With a Boutique Firm
From the Lanigans' perspective, the smaller the better for the Lanigans and for clients. The Lanigans still take the big cases and find that it helps them and is a strategic advantage prosecuting large cases.
Most big firms have too many people on a case and it's too many cooks in the kitchen. The message gets lost. The research gets bifurcated. The interest can't be as strong because everyone won't have an emotional involvement or a vested interest in you as a client.
However, if you want a big firm, you may want to consider going to other attorneys; if big makes you feel comfortable then you probably need to be with another firm. But if you want personal attention this is the law firm.
People will often hire big firms to handle cases, to take on litigation and one of the problems that comes up by the time the case is in litigation, the attorney they hired, the person they came to the big firm for, doesn't show up for the case.
When you're seeking legal counsel there are some things you need to consider besides the first name in a phone book or a generic company you don't know anything about. Obviously if you're reading this blog and looking at this website, it's because you have a legal situation or you have a pending case that you need legal counsel for.
When You Need Legal Counsel
If you need to talk to an attorney, the best thing you can do is address it immediately. A bad legal situation can be made a lot worse in by waiting or freezing. It's in your best interest to consult with several attorneys to find a lawyer who you're comfortable working with.